The second Strong (DD-758) was laid down on 25 July 1943 by
Bethlehem Steel Co., San Francisco, CA; launched on 23 April 1944;
sponsored by Mrs. Hobart Olson; and commissioned on 8 March 1945,
Commander C.M. Howe in command.

Strong began her shakedown cruise in the San Diego Bay area on 27 March and on 11 May underwent a short period of post-shakedown availability there. On 31 May she stood out of port en route to Pearl Harbor. Training exercises were held off Oahu from 6 to 20 June when she departed to begin escort duty for convoys between the Marshall and Caroline Islands. From 27 July to 31 August, she served as convoy escort and antisubmarine screen in the Ryukyu Islands. She entered Japanese home waters to patrol air-sea rescue stations on 1 September and later served as courier between Wakayama, Nagoya and Yokosuka. On 5 December 1945, the destroyer was ordered to sail to the east coast and join the Atlantic Fleet.
Strong transited the Panama Canal on 11 January 1946 and arrived at New York on the 15th. After a period of upkeep and repairs, she operated along the northeast coast until rapid demobilization kept her at Boston from 29 April until 1 August. She put to sea again and operated with the fleet as far south as the Gulf of Mexico until she sailed into Charleston, S.C., for inactivation and berthing. The destroyer was placed in reserve, out of commission, on 9 May 1947 as a unit of the Atlantic Reserve Fleet.
Strong was placed in commission again on 14 May 1949 and held shakedown training in Guantanamo Bay, Cuba, during September and October. Her home port was designated as Norfolk, Va., and she sailed from there with 2d. Fleet units for operations near the Arctic Circle. Fleet exercises Portrex and Carribex were held during March 1950 and, during June and July, Strong embarked midshipmen and reservists for a training cruise to Panama and Cuba. In late August, she sailed for the Mediterranean Sea, and her first deployment with the 6th Fleet which lasted until February 1951. Routine fleet duties followed until 15 May 1952 when she steamed from Norfolk with Destroyer Divisions (DesDiv) 21 and 262 for the Korean War Zone, via Panama, San Diego, Pearl Harbor, and Yokosuka.
Strong sailed from Yokosuka on 19 June for Korean waters and was attached to Task Force (TF) 77 which launched the first attacks against the hydroelectric plants on the Yalu River five days later. The destroyer was in Japan from 9 July to 13 September and returned to Korean waters where she operated until 9 October. During her tour in Korea, she conducted gun strikes up and down the east coast; served with the United Nations Blockade and Escort Group on the west coast; and was at Pusan, Songjin, and Wonsan.
On 9 October, Strong sailed to Yokosuka on her way back to Norfolk via Singapore, Ceylon, Bahrain, Aden, Suez, Naples, and Villefranche. She arrived at her home port on 12 December 1952. Strong operated along the east coast until early January 1954 when she stood out of Norfolk for another tour in the Far East and another world cruise which did not see her back in her home port until 10 August. She resumed her routine duties along the east coast until 13 August 1956 when she sailed for another four month deployment period with the 6th Fleet. The destroyer was deployed to the 6th Fleet again in 1957, 1958, and 1961. In 1958 she saved 13 Bahrenians in the Persian Gulf during a severe storm. In 1959, she participated in "Project Mercury" and recovered the "Big Joe" capsule off Puerto Rico.
Click on the thumbnail images to ENLARGE.
Use "BACK" button on your browser to return.

Mercury H-2 Project "Big Joe" Capsule
Taken about 1 hour after recovery & brought on deck aboard USS Strong DD-758
approx. Jan-Apr 1959, near San Juan, P.R.

Top view of "Big Joe" capsule, taken from 01 level
aboard USS Strong DD-758




Desron 32 motto on # 1 stack USS Strong DD-758
Norfolk VA 1960

USS Strong DD-758 1960




Advancement from 3rd. class Petty Officer to 2nd. class.
Norfolk, VA Summer 1960
CO W.G. Hurley with XO R.E. Bondy


Strong entered the Charleston Naval Shipyard in March 1962 for FRAM II conversion and remained there until December. She held refresher training at Guantanamo Bay in early 1963 and then participated in exercises off Nova Scotia.

Strong was deployed to the 6th Fleet from November 1963 to March 1964; 6 January to 7 June 1965; and from 22 September 1966 to 31 January 1967. She operated along the east coast until 1 November 1967 when she sailed with Destroyer Squadron (DesRon) 4 for the western Pacific and duty in Vietnam.
Strong sailed from Subic Bay, P.I., on 15 December as screen for Coral Sea (CVA-43) enroute to her first assignment in Vietnam, Operation "Sea Dragon." From 18 December 1967 to 2 January 1968, she was on the gunline conducting harassment and interdiction missions against North Vietnamese water borne logistic craft. From 3 January to 5 February she operated at "Yankee Station."
Strong was ordered to the Sea of Japan from 23 February to 6 March after the North Koreans seized Pueblo (AGER-2). She was back off Vietnam on April and assigned to duties in the III Corps Tactical Zone and Rung Sat Special Zone. During the first two weeks, she sank 20 enemy sampans as well as providing fire support. From 22 April to 1 May, Strong served as II Corps naval gunfire support ship, firing against Viet Cong targets in the Phan Thiet area. On 1 May, she sailed for the east coast, via Okinawa, Japan, Midway, Hawaii, California, Mexico, and the Panama Canal, and arrived at Charleston on 4 August.
Strong sailed on 11 September to participate in NATO exercise Operation "Silver Tower" in the Norwegian Sea. After a visit to Gravesend, England, she returned to Charleston on 15 October 1968 and remained there until 9 January 1969 when she resumed routine peacetime training. On 12 November 1969, the destroyer was again deployed to the 6th Fleet for a six month tour and returned to her home port on 23 May 1970. Much of the remainder of the year was spent in port and she was again deployed to the 6th Fleet from 16 April to 16 October 1971. On 16 November, she was transferred to the Naval Reserve Force and became a unit of DesRon 34. Strong operated as a naval reserve training ship until September 1973 when she entered a standdown period at Charleston.
Click on the thumbnail images to ENLARGE.
Use "back" button on your browser to return.




USS Strong DD-758 in Holiday Rigging
July 4, 1973
Pier P, Charleston Naval Base, SC
Photo Courtesy Joe Villari, Cincinnati, OH
USS Yellowstone AD-27 is just forward of USS Strong
USS Sellars DDG-11 is to the left foreground
Astern of the USS Sellars is an oceanographic vessel
In the right background is the sub-tender USS Orion AS-18 &
an unidentified submarine
Aft of the Strong (barely visible) is the USS Cone DD-866
The following E-mail was received from IC3 Sam Goforth on 9-19-1999 at 10:34 PM.

Quote:
"I was the duty IC tech on board the Strong for her last cruise. Actually, it was
the first cruise for the Brazilians before they sailed her back to Brazil. The U.S.
crew had already been transferred, I believe she had already been decommissioned,
the Charleston shipyard had done some work on the ship for the Brazilian Navy and
many of the labels on the operational controls had been changed to Portuguese. I
was a member of the repair department on board the Destroyer Tender USS
Yellowstone (AD-27) in Charleston. One morning in late September, 1973 we were
at quarters when the Chief informed me that I would be getting underway with the
Brazilians on the former USS Strong within the hour for their shakedown cruise. I
had had a peanut butter & jelly sandwich for breakfast several hours before we cast
off. Not a seaworthy meal, especially for high winds and heavy seas just outside
the breakwater. Lunch was pork chops. That did it. I proceeded to launch my
peanut butter over the side. I NEVER got seasick on ANY other cruise. The
greasy chops made it worse. I reappropriated a package of saltines from the
wardroom pantry and slowly ingested them while curled up next to a warm gyro
compass in the FT/IC room until I felt better. It also didn't help that the stinky
scullery was just outside the hatch from the FT/IC room. Trust me when I say
I will never forget the USS Strong (DD-758). By the way, you have a great
looking web page.
Sam Goforth, former IC3 on the USS Yellowstone (AD-27) from 1971 to 1974."
Unquote
Strong was decommissioned and struck from the Navy list on 31 October 1973. She was transferred to the government of Brazil the same day as Rio Grande De Norte (D-37).

Decommissioned by Brazil in December 1995, the ship was sold to a European country, to be scrapped. In June 1997, while under tow, the ship foundered and sank off the coast near Durban, South Africa.

Strong received one battle star for Korean service and three battle stars for service in Vietnam.
ADDENDUM: During 1953, Strong visited the following ports: Norfolk, VA
(home port); Newport, RI (picked up Atlantic Fleet Boxing Team);
Charleston, SC (four months in drydock to overhaul ship and replace all 40mm. with 3" 50s); Mayport and Pensacola, FL; Algiers Naval Base, LA;
Guantanamo Bay and Santiago, Cuba; Port-Au-Prince, Haiti.
On 4 January 1954, Strong left Norfolk, VA for Korea on her second
world cruise, visiting the following ports: Balboa and Panama City, Panama;
San Diego, CA; Pearl Harbor, HI; Midway Island; Yokosuka, Japan;
Buckner Bay, Okinawa; Kaohsiung, Formosa; Yokahama, Tokyo, Kobe,
Atomi and Sasebo, Japan; Hong Kong, China; Singapore, Malaya, Columbo,
Ceylon; Mombasa, East Africa; Durbin, Capetown and Simonstown, South
Africa; Rio de Janeiro and Recife, Brazil, SA; Port of Spain, Trinidad, SA.
She returned to Norfolk, VA on 10 August 1954.

In 1997, Strong was under tow from Brazil to India to be scrapped, when
she foundered in high seas off the coast of Durbin, South Africa, and was
reported by Brazil to have sunk.
Awarded:
American Area Campaign Medal, Asiatic-Pacific Campaign Medal, World War II
Vivtory Medal, Navy Occupation Service Medal, China Service Medal, National
Defense Service Medal, Korean Service Medal w/star, United Nations Service
Medal, Korean Presidential Unit Citation, U.S. Vietnam Service, Vietnam
Campaign w/3 stars.
Article Source: Seaweed's Ships Histories 1-800-SEAWEED
Addendum Source:
GM2 Raymond Bates, Wilmington, MA (served 1951-55)
GM3 Patrick F. Carr, Medford, MA (served 1951-55)
The Captains of the Ship
"Only a seaman realizes to what great extent an entire ship reflects the personality and ability of one individual...her Commanding Officer. To a landsman, this concept is difficult to understand, and for us mariners, it may be hard to comprehend, but it is so.
A ship at sea is a different world unto herself. In consideration of the protracted and distant operations of the fleet units, the Navy must place great power, responsibility, and trust in the hands of those leaders chosen for command.
In each ship, there is one man who, in the hour of emergency or peril at sea, can turn to no other man. There is one man who alone is ultimately responsible for the safe navigation, engineering performance, accurate gunfire, and morale of his ship. He is the Commanding Officer. He is THE SHIP."
This assignment is the most demanding and difficult in the Navy. There is not an instant during his tour as Commanding Officer that he can escape the grasp of command responsibility. His privileges in view of his obligations are almost ludicrously small; nevertheless, this is the spur which has given the Navy its great leaders.
It is a duty which most richly deserves the highest, time-honored title of the seafaring world..... CAPTAIN!"
-Joseph Conrad
| | |
| --- | --- |
| <![if !vml]><![endif]> | <![if !vml]><![endif]> |
| | |
| --- | --- |
| | |
| C,M. HOWE (45-46 | A.E. Cezar de Andrade(73-75 |
| W.A Ellis (46-47 | P.C. Ferreira de Silva (75-77 |
| E.G. FANNING (2/47-5/47 | O.de Silva Fllho (77-78 |
| L.M. SLACK (49-50) | J.de Amorin Maghelli Fillo (78-79) |
| W.B. BROWN(50-51) | L.F. FILHO (70-80) |
| A.T. NICHOLSON (51-52) | O.F Mendes Cardoso (80-81) |
| M.W.SCOTT (52-54) | O Manoel dos Reis Guimaraes (81-83) |
| G.PROCHASKA (1956) | J.Carios da Rosa Lusitano (83-84) |
| H.W. GEHMAN (56-58 | A. Carios de Aguiar( 84-85) |
| H.CASTLE (58-59) | J.F.MacDowell Conalves (85-86) |
| W.G. HURLEY (59-61 | L.de Almeida Mendes (86-87) |
| P.H KLIEPAK (61-63) | C.R. Cristalli (87-88_ |
| W.O McDANIEL (63-65) | E.S.Filho (88-90) |
| R.D SANDERS 65-66 | W.Da Silva Cockrane (90-91) |
| L. F. BROWN (66-68) | C.E.Araujo Motta (91-92) |
| C.G. LOWRY (68-69) | F.Luiz Gallo (91-93) |
| R.A DALLA MURA (69-70) | F.Valdir de Mattos Paula Jr.(93-94) |
| W.J CLERMONT (70-71) | T.de Araujo Lins (1994) |
| R.K LEOPOLD (71-72 | J.E. Borges de Souza (94-95) |
| R. BURNS (8/72-10/73( | |
THE LAST US NAVAL OFFICER TO LEAVE THE USS STRONG WAS LT. CLEM SHEMANSKI

---
Recommissioning Images

Click on the thumbnail images to ENLARGE.
Use "Back" button on your browser to return.


Commissioning Roster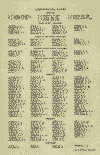 ---
---
---
Recommissioning Officers and History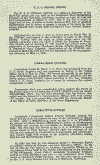 For a history of the first USS Strong DD 467, return to home page and scroll down.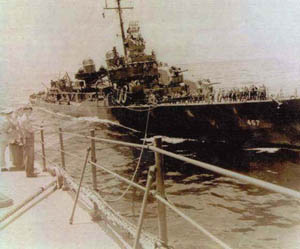 Photo courtesy James R. Merriman, who served aboard the Strong DD 467


| Home | Namesake | Hull | History | The Crew | Organization | Pictures | Reunions | Join |


For comments on this site contactstrong758_webmaster@yahoo.com